Articles, Reflections, & Announcements
Lift Every Vote
When are you going to watch the short 37 minute film Suppressed so that you can participate in this Sunday's discussion during Service?
Watch now using the link below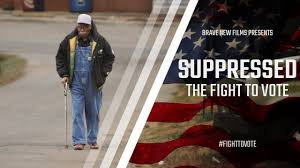 UU the Vote:  Love and Action, Together
*Help get out the vote by writing 20 postcards!  We'll provide the postcards, names and addresses to send them to, instructions and even the stamps.
*Purchase your own packet of materials or sponsor someone else's packet.  $7.50 covers all the costs for sending out 20 postcards!
*Want to really amplify your impact? Spread the word by recruiting  five other people to write postcards! (It can be any five people, UUs or not!)
To participate or get more information, please contact Janet Temkin (janet.temkin@gmail.com) or Susan Fleming (safleming02@msn.com).
Women's Lunch Bunch – Noontime Zoom
By Linda Wright
Beginning Wednesday August 19 the Women's Lunch Bunch will gather on Zoom. Mark your calendar now for the third Wednesday of every month at noon. Contact Linda Oaksford in advance for the Zoom link to join.
Meet with others in our community for a casual gathering with no particular agenda. Bring something to eat or drink, or not. This is a purely social time, a way to meet with folks you don't know already, or folks you do know but want to know better.
As the hymn by Jim Scott encourages us to do:
"Gather in peace, gather in thanks,
Gather in sympathy now and then.
Gather in hope compassion and strength
Gather to celebrate once again.
Gather the spirit of heart and mind."
© 1990  Jim Scott
Let the Power of the Diabetes Empowerment Education Program™ Work for You – presented by Big Bend Area Health Education Center
The Diabetes Empowerment Education Program™ (DEEP™) is a Medicare-approved, evidence-based diabetes self-management education (DSME) program for people with prediabetes or diabetes. Increasing access to DEEP is essential to ensure that people with diabetes and prediabetes can acquire the knowledge and skills necessary to reduce complications resulting from diabetes, such as kidney failure, amputation, vision loss, heart failure, and stroke.
There are six consecutive weeks of classes held Tuesdays from 5:30 pm to 7:30 beginning  August 11 through September 15.  Each class covers a different topic. Morning classes available on request. Call Mariann D'Arcangelis at 850-692-2845 with questions or for more information click here.